F-14 Tomcat:
History
Specifications
Bureau Numbers
Walk-Around
Squadrons
Photos
Books
Memorabilia

Other Topics:
Grumman A/C
EXTRA 400
A/C Photos
Links
Guestbook
Credits
The Author




Weapons & Stores for the F-14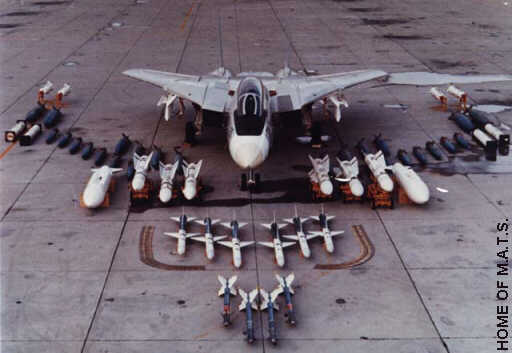 Photo: US Navy



The following is a list of weapons and stores that are cleared for the F-14. (Note that not all of these weapons are described in detail in the Walk-Around Section of this site. If you have any more detailed descriptions of the listed ordnance/stores, please send them to me and I will add them to my site!)



Air-to-Air Missiles | Air-to-Ground Ordnance | Miscellaneous Stores



Air-to-Air Weapons:

AIM-7 Sparrow
AIM-9 Sidewinder
AIM-54 Phoenix
Air-to-Ground Weapons:
Mk.82 (BLU-111A/B) GPB
Mk.83 (BLU-110A/B) GPB
Mk.84 GPB


GBU-10
GBU-12
GBU-16
GBU-24
GBU-31 JDAM


CBU-20
CBU-78
CBU-99
CBU-100


Mk.76 Practice Bomb
Mk.106 Practice Bomb
BDU-33 Practice Bomb
BDU-45 Practice Bomb
BDU-48 Practice Bomb
BDU-57 LGTR
Miscellaneaous:
M61-A1 Vulcan Cannon
Mk.58 Marine Location Marker (See Practice Bombs for image.)
LUU-2 Paraflare
ADM-141 TALD


BRU-32 Bomb Rack
BRU-42 Bomb Rack
LAU-92 Missile Launcher
LAU-93/132 Missile Launcher
LAU-138 Missile Launcher & Chaff Dispenser
MXU External Fueltank Racks
CCU-44 CADS (See Bombracks for CADS details.)
CCU-45 CADS
Mk.19 CADS
Mk.107 CADS
Mk.125 CADS


Mk.36 Mine *
Mk.62 Mine *
Items marked with a * are not described anywhere on this site yet.