F-14 Tomcat:
History
Specifications
Bureau Numbers
Walk-Around
Squadrons
Photos
Books
Memorabilia

Other Topics:
Grumman A/C
EXTRA 400
A/C Photos
Links
Guestbook
Credits
The Author




F-14 Nose Landing Gear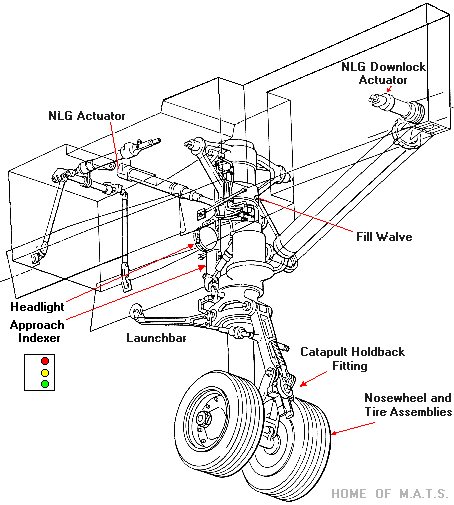 The Approach Speed Indexer is the same indicator instrument as in the pilot's cockpit, just that the approach indexer on the noselanding gear is for the aircraft carrier's Landing Signal Officer. With the illuminated lights of the indexer, the LSO can judge the speed of the approaching F-14:

Excerpt from F-14B NATOPS flight manual:
"2.33.4 Approach Lights. The approach lights consist of red, amber, and green indicator lights above the nosegear strut. The lights are actuated by the angle-of-attack indicator and provide qualitative angle-of-attack information to the landing signal officer during landing approaches. A flasher unit in the angle-of-attack system will cause the approach lights to pulsate when the arresting hook is up with the landing gear down and the HOOK BY-PASS switch in the CARRIER position. When the FIELD position of the HOOK BY-PASS switch is selected, the flasher is disabled.
A green approach light indicates a high angle-of-attack, slow airspeed; an amber light indicates optimum angle-of-attack; and a red approach light indicates a low angle-of-attack, fast airspeed."

The approach lights do not provide any indication as to the relative flight path position, high or low, of the aircraft. It is possible to be fast and low as well as high and slow. In fact a common approach error noted by LSOs is a "high, fast start." The color of the approach light illuminated is solely an indication of aircraft's current angle-of-attack (airspeed).



Click on image-icons to view an enlarged photo:










All graphics Copyright © Torsten Anft