F-14 Tomcat:
History
Specifications
Bureau Numbers
Walk-Around
Squadrons
Photos
Books
Memorabilia

Other Topics:
Grumman A/C
EXTRA 400
A/C Photos
Links
Guestbook
Credits
The Author




VF-301 Devil's Disciples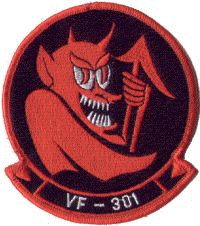 CALLSIGN: DEVIL

1 October 1970 - 11 September 1994

VF-301 stood up as a reserve squadron on the 1st of October 1970. Initial equipment was the F-8 Crusader, changed four years later for the F-4B Phantom II. The squadron's time with the B model Phantom II was very short, as the unit began to receive N models in February of 1975. 1980 saw another change of equipment, this time to the ultimate F-4 variant, the F-4S, with the first of these coming on strength in November. A few years later there was yet another change, for October 1984 saw the introduction of the F-14A Tomcat into VF-301 service and also its introduction into USNR service.
VF-301 made the first deployment of the F-14 with the Reserves on the 21st of April 1985, with five aircraft visiting MCAS Yuma for air-to-air training against the Marines Corps F-21A Kfirs. At this time the squadron was still undergoing the conversion process and it was not until the 4th of August 1985 that the full squadron was able to deploy to NAS Fallon for training.
The Devil's Disciples first carrier landings were onboard the USS Ranger. Further carrier training was limited but did include time onboard the USS Enterprise between the 10th and 22nd of August 1988. Later in it's life the squadron became the first Reserve squadron to drop air-to-ground ordnance, in the shape of Mk 84 bombs and Mk 20 cluster munitions.
After 24 years of service VF-301 was disestablished on the 11th of September 1994, the same time as VF-302. The rest of CVWR-30 was soon to follow. During these 24 years VF-301 had acquired an outstanding safety record, flying 71322.4 hours without a class A mishap, setting a new record for Navy jet squadrons.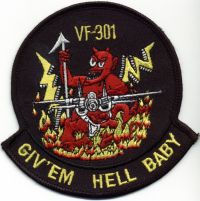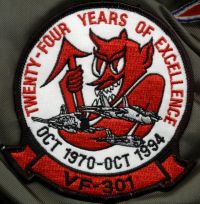 Click here for high quality Squadron Prints
F-14A

All graphics Copyright © Torsten Anft