F-14 Tomcat:
History
Specifications
Bureau Numbers
Walk-Around
Squadrons
Photos
Books
Memorabilia

Other Topics:
Grumman A/C
EXTRA 400
A/C Photos
Links
Guestbook
Credits
The Author




VF-84 Jolly Rogers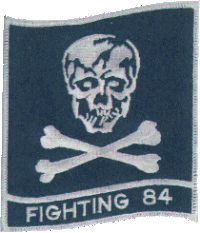 CALLSIGN: VICTORY

1 July 1955 - 1 October 1995

When VF-84 was first established on 1 July, 1955, at NAS Oceana, they were known as the Vagabonds and the FJ-3 Fury was their mount. The name Jolly Rogers originated from the Fighting Seventeen of World War II fame. VF-17 was one of the first Navy fighter squadrons to receive the F-4Us, they wanted a squadron insignia which would live up to the Corsair name--hence the famous skull-and-crossbones were born. After the disestablishment of VF-17 in April of 1944, the VF-61 became the new Jolly Rogers. In 1959, VF-61 was disestablished and the then VF-84 Vagabonds requested to carry on the name and insignia of the Jolly Rogers. Approval came down in April 1960 and the skull-and-crossbones were soon adorning their F-8U Crusaders.
VF-84 traded their F-8Us for F-4Bs in 1964 and subsequently they had also flown the F-4J and F-4N variants of the venerable Phantom. The squadron began its transition to the F-14A in early 1976 and after the transition was complete, they embarked on their first major cruise with the new aircraft aboard USS Nitmitz (CVN-68) in December of 1977.
The squadron received the first TARPS pods of the fleet in 1979 and was a pioneer in using the Tomcat as a reconnaissance platform. The Jolly Rogers also played a prominent role in the 1980 motion picture Final Countdown, which propelled the skull-and-crossbones and the F-14 Tomcat to international stardom.
In December 1990, aircraft carrier USS Roosevelt (CVN-71) was called upon to join USS Ranger and USS Midway in the Persian Gulf. Throughout the Gulf War, VF-84 flew combat air patrols for the fleet, escorted the air wing's strike aircraft, and performed TARPS missions to collect bomb damage assessments. After the war, the squadron flew 111 more sorties in support of Operation Provide Comfort before the Roosevelt was finally relieved by USS Forrestal in June 1991.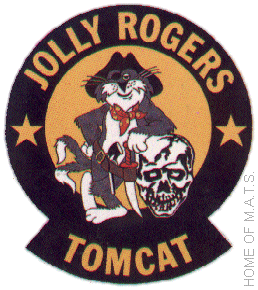 The Jolly Rogers have always sported some of the most recognizable squadron markings in the world: Sinister white skull-and-crossbones on all-black tails, with gold bands wrapped around the tip of the tail fins, and black bands with gold V's run down the sides of the forward fuselage (these were from the Vagabonds days).
The squadron's prized mascot is a set of skull and crossbones enclosed in a glass encasement. "Passing of the bones" from the outgoing skipper to the incoming skipper is a time-honored Jolly Rogers tradition. The bones are supposedly the remains of ENS Jack Ernie of VF-17. Ernie was killed during the Okinawa invasion in World War II, as his flaming aircraft spiralled towards earth, he made one last radio transmission asked "to be remembered with the skull-and-crossbones". Ernie's family later presented the squadron with the set of skull and crossbones and asked the squadron to fulfill Ernie's last wish. He may be lost fifty some years ago, but ENS Jack Ernie's spirit lived on until this day.
The post Cold War downsizing of the Navy has brought about the disestablishment of many squadrons; unfortunately VF-84 was no exception. The squadron spent the last eighteen months of its existence participating in numerous joint service operations, sending its crew to career-advancing venues, honing their ACM, strike, and TARPS skills, and they even made a memorable appearance in yet another motion picture--Executive Decision.
Not too long after VF-84's disestablishment on 1 October, 1995, the VF-103 Sluggers adopted the name and insignia of the Jolly Rogers and the "bones" were passed on to them. No matter how times may change, there will always be someone to carry on the pride and tradition of the Jolly Rogers!



Click here for high quality Squadron Prints



F-14A, 1978

F-14A, 1980s

F-14A, late 1990s
All graphics Copyright © Torsten Anft