F-14 Tomcat:
History
Specifications
Bureau Numbers
Walk-Around
Squadrons
Photos
Books
Memorabilia

Other Topics:
Grumman A/C
EXTRA 400
A/C Photos
Links
Guestbook
Credits
The Author




VF-33 Starfighters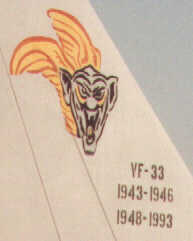 CALLSIGN: TARBOX

September 1943 - October 1993

Established in September 1943, VF-33 were first equipped with the Grumman F6F "Hellcat". Their first operation was to the Soloman islands, the first time a US Navy squadron has used the F6F in combat. VF-33 was land based at this time, supporting the island hopping Pacific campaign. VF-33 disestablished in July 1946.
VF-33 was re-established on the 11th of October 1948, this time flying the famous Chance-Vought F4U "Corsair". After seeing action during the Korean war (and being awarded the Navy Unit Citation for their success) several changes of equipment and location followed in quick succession. By 1962 the unit was flying F8U-2NE "Crusaders" from the world's first nuclear powered aircraft carrier, the USS Enterprise (CVN-65) and as part of this team took part in the blockade of Cuba.
In 1964 the squadron started to become familiar with the aircraft which (in two different versions) would last them the next 17 years and became the backbone of Naval Fighter Aviation. The plane was, of course, the F-4 "Phantom II". Initially equipped with the F-4B, VF-33 set a new Atlantic Fleet record by winning the CNO Aviation Safety Award for four years in a row (1961-64). However VF-33's time with the F-4B was short and in 1967 they upgraded to the F-4J. The new F- 4 featured a different radar, higher thrust engines, slatted tailplanes, extra fuel cells and larger main wheels (to handle the increased weight).
Almost as soon as the new F-4's were received VF-33 was once again deployed to combat, this time to South-East Asia onboard USS America (CV-66). During their time in theatre VF-33 dropped over 3,000,000 pounds of ordnance! This was in the space of 4000 combat hours flown over 5 months. On the 10th of July 1968 a VF-33 bird downed a MiG- 21C, the first air to air kill by an East Coast Fighter squadron over N.Vietnam.
After returning from Vietnam VF-33 continued it's association with CVW-7 and USS Independence (CV-62), deploying most years. Several awards were won during this time, including the CNO safety award in 1969 and 1970. The 75-76 cruise saw the squadron win the Golden Tailhook Award, recognising it's skill at carrier landing. February 1979 saw VF-33 achieve 3 years of accident free flying.
In 1981 VF-33 entered a new era, with the introduction of the F-14A Tomcat. As the transition took place VF-33, who up until this time had the official squadron name of "Tarsiers", began to unofficially use their callsign, "Starfighter" as the squadron name, perhaps inspired by the huge increase in capability the F-14A brought.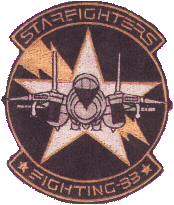 VF-33's first deployment with their new mount was between August and October of 1982 onboard USS America (CV-66).
Another AIRLANT record fell to VF-33 on the 20th of August 1985, as the squadron became the first to complete 50 missile firings without a single failure, testimony to the skill of VF-33's Ordnance and IWT shops, part of the AV-ARM division.
Another deployment onboard USS America (CV-66) as part of CVW-1 began in March of 1986, this time headed for the southern Mediterranean. VF-33 and VF-102 provided air cover for the carrier battle group as it moved south of Colonel Ghaddafi's "Line of Death" (Ghaddafi claimed that Libya's territorial waters extended 12 miles from the Libyan coast, as opposed to the internationally recognised limit of 3 miles. Any plane or ship crossing that line was thus within Libyan waters, Ghaddaffi claimed, and thus liable to attack).
On the 15th of April 1986, after a terrorist attack on a west German disco hall, President Reagan ordered airstrikes against targets within Libya. F-111F bombers, from the 48th Tactical Fighter Wing (TFW), based at RAF Lakenheath, United Kingdom, attacked targets in Tripoli, while Navy A-6's from the carriers America and Coral Sea attacked Benghazi harbour. Navy and Marine Corps F/A-18A Hornets and Navy A-7E's attacked Sam sites with HARM missiles. The Tomcat squadrons provided aerial cover for the entire strike force.
Also in 1986 VF-33 flew 895 continuous sorties without an abort, a record that stands within the F-14 community to this day.
1987 began with a short cruise onboard the Navy's newest carrier, USS Theodore Roosevelt (CVN-71), allowing CVN-71 to shake down prior to full introduction to service.
1987 also saw the unit officially become known as 'Starfighters', it's previous official name being 'Tarsiers', with the then commanding officer, CDR Tony Bucchi, designing the new squadron patch. The squadron members had unofficially referred to themselves as Starfighters for several years prior to this.
As part of their flawless missile record VF-33 launched an AIM-54 Phoenix off the oldest active east coast F-14, BuNo 159010, an impressive achievement considering the complexity of the Tomcat's AWG- 9 radar system.
Two more cruises onboard USS America followed, one in 1988 and one in 1989. February of 1990 saw VF-33 (and presumably VF-102) switched to CVW-9 onboard the USS Constellation (CV-64) for a two and a half month transit from San Diego to Philadelphia Naval Shipyard. The time was put to good use, however, with VF-33 performing several joint exercises with South American nations. Once in Philadelphia, Constellation began her Service Life Extension Programme (SLEP).
Late 1990 saw the arrival of the Gulf crisis, as part of the multinational force deployed to the area VF-33, onboard USS America (CV-66) helped enforce the sanctions then participated in Operation Desert Storm, providing air cover to Navy and allied aircraft.
After the success of Desert Storm VF-33's days were numbered. In October 1993 the squadron had the dubious honour of being the first F- 14 squadron to be disestablished in the recent round of cuts. This was due to the Navy move from 2 F-14 squadrons per air wing to 1.



Click here for high quality Squadron Prints



F-14A, 1988


All graphics Copyright © Torsten Anft