F-14 Tomcat:
History
Specifications
Bureau Numbers
Walk-Around
Squadrons
Photos
Books
Memorabilia

Other Topics:
Grumman A/C
EXTRA 400
A/C Photos
Links
Guestbook
Credits
The Author




VF-102 Diamondbacks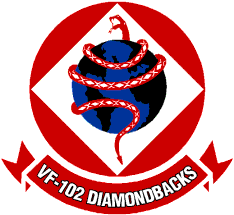 CALLSIGN: DIAMOND

The present VF-102 was established on the 1st of July 1955 at NAS Jacksonville, Florida. Before flying Tomcat's the squadron flew F2H Banshees, F4D-1 Skyrays and the F-4 Phantom. VF-102's first ever cruise was onboard the USS Randolph from July of 1956. After returning to NAS Jacksonville VF-102 began to transition to the Douglas F-4D-1 Skyray, one of the first planes to carry the new AIM-9B Sidewinder heat seeking missile.
The transition to the F-4B Phantom began in 1961, straight after a Mediterranean cruise. VF-102 also moved to NAS Oceana around this time. In the next twenty years VF- 102 got to know the F-4 very well, some of it's more impressive achievements being:- "Operation Sea Orbit", the first nuclear task force circumnavigation of the globe, demonstrating how much a carrier's range and endurance could be improved by using a nuclear power plant.
VF-102 won the COMNAVAIRLANT Battle "E" efficiency awards in 1964 and 1966. Then in 1968 VF-102, as with most Navy squadrons, did it's part in the Vietnam war.
After 20 years flying Phantom's the squadron started transitioning to the F-14A in July 1981, completing the change by May 1982. In mid 1994 the squadron upgraded to the F-14B, which incorporates GE F110 engines instead of the trouble prone P&W TF-30s. Avionics remain almost identical to the F-14A.
The squadron is part of CVW-1 on board the USS America (CV-66), up until 1995 being paired with VF-33. In March 1986 the squadron's Tomcat's were fired on by Libyan SAM's and triple-A while flying CAP's for Operation Prairie Fire. A month later VF-102 again flew top cover, this time protecting US Navy A-6's and USAF F-111's that took part in Operation El Dorado Canyon. No combat losses were suffered on either occasion.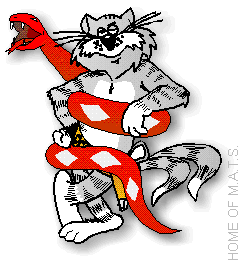 The next call to action was during Operation Desert Shield/Storm, after a shorter than usual work up period the two squadrons deployed in late December and within 48 hours of arriving were flying combat operations over Iraq. VF-102 and VF-33 were the only squadrons to fly combat missions from both the Persian Gulf and the Red Sea during the Gulf conflict, operating from USS America (CV-66). In the six week campaign VF-102 logged more than 1400 combat flight hours. In August of 1993 VF-102 became the first F-14 squadron to try out the new US Navy air wing concept, where there is only one squadron of F-14's per wing. This took place on America's August 1993 to February 1994 cruise in the Mediterranean. The single squadron was expanded from 8 to 14 Tomcats, and the normal second squadron (VF- 33) not embarked, having been disestablished. VF-102 managed to clock up an impressive 98.7% mission capable rate, while being involved in CAP patrols over Bosnia (Deny Flight and Provide Promise), Iraq (Southern Watch) and Somalia (Restore Hope). Due to VF-102's success the navy decided to change the composition of all CVW's, removing one squadron of F-14's and replacing it in two ways, firstly enlarging the remaining F-14 squadron and secondly adding a third squadron of 10 F/A-18 Hornets, thus giving the air wing more air-to-ground capability.
VF-102 was now USS America's sole F-14 unit and by the 24th of February 1996 the unit had completed it's final deployment on-board America, returning to NAS Oceana. After America's retirement VF-102 (and the rest of CVW-1) have moved to USS George Washington (CVN-73), with CVN-73's previous airwing, CVW-7, having moved to the newest Navy carrier, USS John C. Stennis (CVN-74).
VF-102 is a TARPS capable unit, having been so since the squadron first received the F-14A, and so generally has four TARPS capable birds when deployed, the remainder being a mix of 'vanilla' and LANTIRN capable F-14's. In late 1996/early 1997 VF-102 exchanged their F-14B's for F-14B Update models. VF-102 are the first squadron to recieve full capability Update models, previous squadrons (VF-103, VF-32, VF-14, VF-41 and VF-2) having had partially upgraded aircraft, able to carry LANTIRN but without the full 'bag of tricks' that the Update model brings. The squadron's aircraft now feature, in addition to the LANTIRN pod a new PTID (Programmable Tactical Information Display). This replaces the old 'fishbowl' in the RIO's office and resembles a large MFD, with programmable push switches around the edges. Apparently this new display is a real boon for the RIO, being much eaier to read in direct sunlight. Also new in the RIO's world is a controller for the LANTIRN pod, this replaces the TARPS control panel on the lower left hand console. The stick is a development of the now defunct A-12 program and is thus state of the art. I believe both cockpits also now feature GPS displays. The final changes to the cockpits are to add NVG compatible lighting, as otherwise pilots and RIO's using NVG's would be dazzled by looking at their displays. Out of the cockpit the Update features a digital electronics architecture, allowing easier integration of future weapons, updated radar warning receiver and associated decoys. To improve the Tomcat's reconnaissance capabilites the TARPS pod now features a digital Pulnix camera in the forward station, previously used by the KS-87B frame camera. The digital camera allows imagery to be transmitted back from the aircraft to the carrier, enabling the commanders to gain near 'real time' intelligence.
VF-102 are lucky in that they have received 12 Update Tomcats, leaving them only 2 standard aircraft (both of which are TARPS configured). 3 of their TARPS birds were upgraded to Update standard however, giving them the capability to 'swing' between missions with ease. The new capabilites of the Update Tomcat mean that it exceeds the Hornet in even more areas than before and completes the transformation of the F-14 from a world class air-to-air platform to a long range strike fighter. One of the first things VF-102 did after receiving their Update F-14's was to deploy to Alaska, along with reserve squadron VF-201. Since then they have carried out carrier qualifications for their forthcoming cruise and improved their skills at working as an integral part of CVW-1.
The latest cruise began in October 1997, after crossing the Atlantic the Diamondbacks took part in Exercise Bright Star, a biannual event featuring forces from the USA, Egypt, Italy, France, the UK, UAE and Kuwait. A port visit to Haifa was cut short late in November, on the 21st/22nd of that month the carrier battle group was ordered to the Persian Gulf, part of the build up of forces in the region. The crisis began when Saddam Hussein barred UN weapon inspectors from carrying out their assigned tasks. As it grew the George Washington joined the USS Nimtz and a host of allied forces, including USAF F-117A's, F-15C's F-16C's, A-10A's, EF-111A's and even B-52H's. The carriers provided around 50 strike aircraft apiece and with their new LANTIRN system VF-102 were highly in demand, often working with RAF Harrier GR.7's from the HMS Invincible. Whilst flying as part of Operation Southern Watch the Diamondbacks flew 557 sorties (including training), a completion rate of 99.7%. As the crisis eased in late February VF-102 and the rest of the airwing began the long trip home, arriving back in Norfolk on March the 13th. As ever the return to NAS Oceana was marked by a squadron flypast. With the accomplishments of the last 4 months under their belt the Diamondbacks return was more enjoyable than ever.
After a quick period of rest VF-102 took and passed their Aircraft Material Condition Inspection, adding to a safety record that is hard to rival, considering they have won the last 3 safety 'S'awards. Late April saw flying begin again as the unit took part in JTF98-2, flying as adversaries to the USS Dwight D. Eisenhower battle group, which was just beginning to cruise. After that it was a quick trip to New Yrok onboard the USS John F. Kennedy as part of Fleet Week, an annual gathering of ships in New York harbor. If that weren't enough the squadron deployed to Gander, Canada, in June, acting as 'Orange Air' for a Canadian exercise.
In 1999, VF-102 became the first F-14 squadron to be TARPS CD equipped. The TARPS CD is a completely digital pod and by providing near real time target locations information, the F-14s TARPS CD sets a new standard for tactical reconnaissance.
In March of 2002 VF-102 became VFA-102 and transition to the new Super Hornet began. With this transition comes a new home at NAS Lemoore, California.



Click here for high quality Squadron Prints



F-14A, early 1980s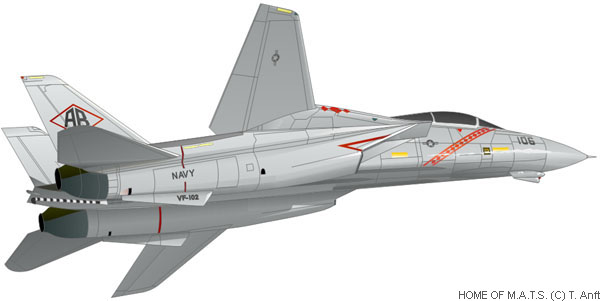 F-14B, late 1980s

F-14B, 1996

F-14B, early 2002

F-14B, later 2002

All graphics Copyright © Torsten Anft