F-14 Tomcat:
History
Specifications
Bureau Numbers
Walk-Around
Squadrons
Photos
Books
Memorabilia

Other Topics:
Grumman A/C
EXTRA 400
A/C Photos
Links
Guestbook
Credits
The Author




VF-31 Tomcatters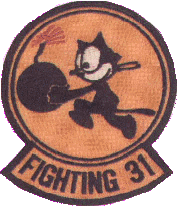 CALLSIGN: TOMCAT

At sixty-one years of age VF-31 is the second oldest continuously active US Navy aircraft squadron. Originally established as VF-1B on 1st July 1935 the squadron received it's current designation in August 1948. While there had previously been other VF-31's there was no direct link between them and today's VF-31.
Before converting to the F-14 the 'Tomcatters' had a notable history, being the only US squadron (of all three air arms) to score confirmed kills in three wars, World War II, Korea and Vietnam.
VF-31's association with their namesake, the F-14 Tomcat, began in late 1980, but they did not receive their first F-14 until the 22nd of January 1981. In a short time, however, they had received their full complement and officially stood up with the F-14 on the 4th of June 1981. As with all squadrons at this time VF-31 received the F-14A.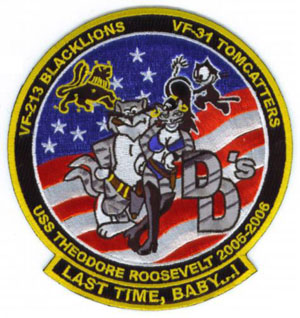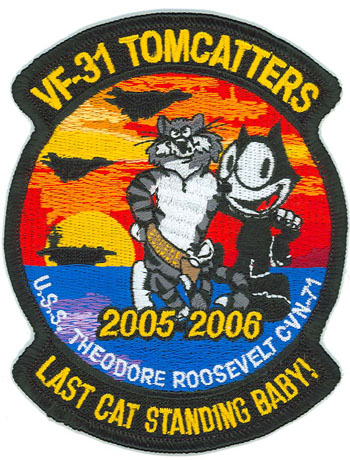 The squadron's first cruise was onboard the USS John F. Kennedy (CV-67) as part of CVW-3, beginning in January 1982. By September of 1983 VF-31 was to embark on it's fourth cruise onboard Kennedy. This cruise took the carrier and it's air wing back into the southern Mediterranean, more specifically off the North African coast. It was on this cruise that VF-31 crews regularly flew over Lebanese and Syrian positions, often being fired at by Syrian AAA, which had little chance of hitting the fast and high F-14's. However on a flight in early December (perhaps the 3rd?) a more serious threat emerged, SA-7 heat seeking SAMs were fired at the F-14's. Although both the Tomcats (standard procedure for recon missions was one bird with the TARPS pod and another to fly on it's wing, providing cover against possible air threats)flying were able to return safely this action led to US Navy retaliatory air strikes. On the 4th of December attack aircraft from both Kennedy and USS Independence (CV-62) attacked the SAM sites, but this time there were losses, one A-7 and one A-6. VF-31 shifted carriers and air wings in April of 1985, moving to become part of CVW-6 onboard the USS Forrestal (CV-59), along with it's sister squadron VF-11. Cruises onboard Forrestal continued until early 1992, when Forrestal became the US Navy's replacement for USS Lexington (AVT-16) as a permanent training carrier.
This prompted a series of big changes for VF-31, the squadron changing coasts, carriers and planes all in one go! Moving from NAS Oceana to NAS Miramar VF-31 became part of CVW-14 onboard the USS Carl Vinson (CVN-70). However the biggest change was in terms of planes, VF-31 (and VF-11) trading their A model F-14's for the new and improved D. The D Tomcat has a huge increase in capability over the A, featuring new engines, radar and ejection seats. VF-31, like all F-14 squadrons, is presently in the process of receiving LANTIRN capable Tomcat's, although the small number of pods purchased so far means that at present they have to be shared amongst the fleet
As with sister squadron VF-11, VF-31 moved to NAS Oceana in January/February of 1997. Since then the squadron has been busy, among other activities they sent a single F-14D and crew to the 1997 Paris Air Salon, primarily to promote the LANTIRN capabilites F-14 squadrons are now receiving. A few months later several aircraft deployed to their old home of NAS (now MCAS) Miramar, along with other squadrons from CVW-14, for airwing workups. The det featured a lot of live weapon firing, including the dropping of four 2000lb bombs from an F-14 in a single go, not a common event (from all reports 8000lbs of explosive makes a real big bang). An even bigger challenge followed when the Tomcatters took part in Roving Sands '97, during April 1997. Roving Sands is the world's largest joint air operations exercise. VF-31 and much of CVW-14 flew alongside aircraft from CVW-7, CVW-17, CVWR-20, US Army helos (including Mi24 Hinds), German Tornado's and various USAF types. This composite force formed 'Red Force', the aggressors during Roving Sands.
As the year progressed VF-31 deployed to NAS Fallon, for carrier air wing work-ups with the rest of CVW-14. These 5 weeks in Novemeber saw some of the most intense flying the squadrons go through and oftne marks the peak of their effiency as an airwing (which is why consideration is being given to moving the Fallon dets closer to the final cruise date). Early 1998 saw CQ's, the final hurdle which all must pass before the cruise begins. After successfully CQing every crew VF-31 returned to NAS Oceana and the pace slowed slightly, with personnel departing on final leave before the cruise. Even so the squadron still kept up a pace of 6-10 hops a day. Around this time new directives came from FITWING, instructing the removal of much of the CAG bird colour. VF-31's bird lost it's gloss black tails, much to the disappointment of many, but kept the Felix and rainbow flash.
Delayed later than originally planned the cruise finally began on in June 1998. VF-31 personnel travelled across country to the USS Abraham Lincoln (CVN-72). Once underway the 10 F-14D's of VF-31 flew onboard. Since then VF-31 has participated in an intense WESTPAC schedule, flying night and day. Port visits have been made to Hong Kong and Jebel Ali. Recent weeks have seen the carrier wing fly missions in support of Operation Southern Watch in the Persian Gulf. A pleasing development is that the CAG bird has been repainted, regaining it's black tail colour scheme.



Click here for high quality Squadron Prints



F-14D, 1997


F-14D, 2000

All graphics Copyright © Torsten Anft