F-14 Tomcat:
History
Specifications
Bureau Numbers
Walk-Around
Squadrons
Photos
Books
Memorabilia

Other Topics:
Grumman A/C
EXTRA 400
A/C Photos
Links
Guestbook
Credits
The Author




VF-213 Black Lions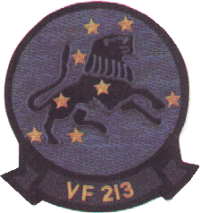 CALLSIGN: BLACK LION

The Blacklions were established as VF-213 on the 22nd of June 1955 and thus are one of a rare breed among Navy squadrons in that they retain the designation they were established with. VF-213 were among the first Miramar squadrons to receive the F-14A, beginning conversion to it in September 1976, the new F-14 replacing venerable F-4B Phantom II's. Quickly becoming proficient on their new mount VF-213 departed for their first cruise as part of CVW-11 in October 1977. This first cruise took place on board the USS Kitty Hawk (CV-63) and saw VF-213 paired with VF-114 'Aardvarks', a pairing that was to last until the Aardvarks were disestablished in April 1993. After their Kitty Hawk cruise VF-213 and CVW-11 shifted to the USS America (CV-66) and took part in two Mediterranean cruises, one in 1979 and the other in 1981.
1982 saw VF-213 gain the first of their TARPS capable F-14's and quickly become proficient with the new equipment and role.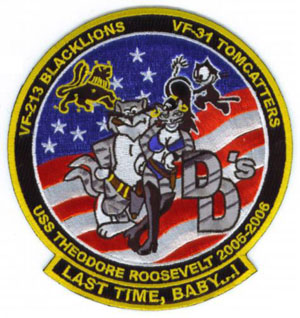 Late in 1982 CVW-11 once again moved carriers, this time to the nuclear powered USS Enterprise (CVN-65), beginning a partnership that was to last throughout most of the 1980's. Another cruise on board Enterprise followed in 1984 and regular cruises followed until Enterprise had to go into dock for nuclear refuelling. During this period CVW-11 (and VF-213) shifted to the USS Abraham Lincoln. With VF-114 disestablished VF-213 now provides the main battle group protection for the Enterprise, with whom they are now reunited, and her battle group, as well as providing extra strike capability through their 'Bombcat capabilities. In the next few years these capabilities will be substantially increased with the introduction of NVG's and LANTIRN pods to allow VF-213 to designate targets for their own LGB's and to fly and navigate accurately at night.
VF-213 completed a cruise as part of CVW-11 onboard the USS Kitty Hawk (CV-63) early in 1997. One of the last port visits was to Australia in March. At the end of March VF-213 parted with 6 of their F-14A's, cross decking these aircraft to VF-154 onboard the USS Independence (CV-62). In return VF-213 gained some of VF-154's worst aircraft for the trip back to San Diego. This allowed VF-154 to replace their worst aircraft without the expense of flying new aircraft all the way from the USA.
The recent news that most F-14A's have run out of or are very close to their airframe life limit has led VF-213 to become the latest squadron to fly the F-14D Super Tomcat. This gives a quantum leap in capability for the Black Lions.



Click here for high quality Squadron Prints



F-14A, late 1970s


F-14A, late 1990s

F-14A, 2001

All graphics Copyright © Torsten Anft