F-14 Tomcat:
History
Specifications
Bureau Numbers
Walk-Around
Squadrons
Photos
Books
Memorabilia

Other Topics:
Grumman A/C
EXTRA 400
A/C Photos
Links
Guestbook
Credits
The Author




VF-111 Sundowners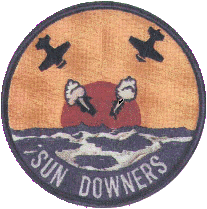 CALLSIGN: SUNDOWNER

10 October 1942 - March 1995

The Sundowners were originally commissioned as VF-11 at NAS North Island on October 10, 1942. By the 23rd of that month, the squadron was on its way to Hawaii with Grumman F4F-4 Wildcats.
While stationed at NAS Maui for intensive pre-deployment training, the fighter pilots were adopted by a prosperous Maui couple, Boyd and Maria Von Temsky, who owned a large cattle ranch on the slopes of Mount Haleakala Crater.
The men appreciated their new home away from home, and while there some of them took steps which ensured the future terminology and fighter spriti of the squadron. They decided VF-11 should have a squadron ensignia and designed one in which the Wildcats were depicted shooting a Rising Sun into the ocean. It was symbolic of their mission.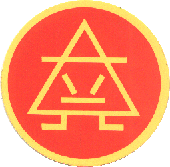 With the help of Maria and Boyd's siter Alexa, the insignia was rendered in color and each Wildcat was eventually stenciled. At the time numerals were not allowed on unit insignia, but along the bottom was printed the words Sundowners - the name by which VF-11 would become popularly known.
The name Sundowners refers to the squadron's job of shooting down Japanese "Suns", but it also refers to an old nautical term. A Sundowner was also a ship's captain who directed his crew towards hard work until the day was ended. The term originated i nthe days of sailing ships when grog was customarily served on ships. A strict captain might withhold the ration until dark, but others allowed the grog to be served when the sun dipped below the yardarm.
In January 1943 hte fledgling squadron was at war, statined at Guadalcanal. From April to July 1943 VF-11 destroyed 56 enemy aircraft in aerial combat.
In October 1944, VF-11 deployed for the first time aboard USS Hornet (CV-12). Since Guadalcanal, the squadron had transitioned to hte F6F Hellcat, and with that venerable aircraft, participated in numerous strikes, accounting for 102 enemy aircraft shot down and dozens more destroyed on the ground. As a result of the action seen while flying from the deck of the Hornet, the squadron was awarded the Presidential Unit Citation.

In July 1948, the Sundowners were redesignated as VF-111, transitioning to the F9F-2 Panther. At the start of the Korean War, LCDR Amen scored the first U.S. Navy jet kill in aviation history, downing a MiG-15 while flying a Panther from USS Phillipine Sea (CV-47).

Since Korea, VF-111 has flown such varied aircraft as the F9F-6 Cougar, FJ-3 Fury, F-11 Tiger and F-8 Crusader, while flying from the decks of 5 different carriers.

VF-111 made seven Vietnam deployments, flying over 12,500 combat missions. During the 1967-68 deployment, LT Tony Nargi shot down a MiG-21 while flying a Crusader. In 1971, VF-111 joined CVW-15 and transitioned to the F-4 Phantom II. During this deployment LT Weigand and LTJG Freckleton downed a MiG-17 near the Tonkin Gulf.

The squadron begain flying the F-14 Tomcat in October 1978. After transitioning to the Tomcat, the Sundowners made two deployments aboard USS Kitty Hawk (CV-63). VF-111 also participated in efforts to free 55 Americans held hostage in Iran while deployed aboard Kitty Hawk.

In October 1983, VF-111 returned to NAS Miramar following a world cruise on the maiden deployment of USS Carl Vinson (CVN-70). The Sundowners accumulated over 1400 carrier arrested landings and 300 flight hours during the eight months voyage.

In 1986 the squadron flew over 4000 hours to lead all west coast fighter squadrons in flight time. VF-111 also accumulated over 7000 accident free flight hours and won the COMFITAEWWINGPAC Third Quarter Safety Award. The squadron earned COMCARGRU 3 and COMCARWING 15 endorsements to receive the ADM Joseph C. Clifton Award which designates the recipient as the best fighter squadron in the Navy.

In the spring of 1987 the Sundowners commenced yet another busy work-up cycle, completing a successful series of training evolution and exercises in preparation for their June 1988 WestPac/Indian Ocean deployment. VF-111's seventeen month work-up was capped by a history making event, FLEETEX 88-2, the first time since WWII that a carrier, USS Carl Vinson and a battleship, USS New Jersey operated as a Battle Fleet.

VF-111's eventful 1988 deployment began in June and ended in December. It included operations in the Northern/Western Pacific, North Arabian Sea, and Indian Ocean, providing support of tanker escorts in the Persian Gulf and included a transit of the frigid Bering Sea, the fourth such transit in four deployments. Interoperability with U.S. and foreign air assets was stressed through exercises with the USAF Alaskan Air Command and Air Forces of Malaysia, Japan and Thailand.

In preparation for another deployment in 1990, VF-111 deployed aboard USS Carl Vinson from Sept. to Now. 1989 as participants in PACEX 89. This landmark exercise had the Sundowners operating in hte Bering Sea, the Pacific Ocean and the Sea of Japan as a part of the largest naval exercise since World War II.

The Sundowners next deployment began in early Feb. 1990 and ended 29 July 1990. While deployed, VF-111 participated in a Battle Group Evaluation in Hawaiian waters, multi-national interoperability exercises in the frigid Sea of Japan during Team Spirit 1990 and intensive Air Combat Maneuvering with the Checkertails of VC-5 in Cubi Point, Phillipines. This was followed by a two and a half month period in the Indian Ocean and North Arabian Sea while undergoing training exercises with the Air Forces of Singapore, Malaysia, Thailand and a successful Weapons Week off Diego Garcia.

The squadron accumulated over 2200 hours and 1000 arrested landings and proved its readiness by scoring direct hits on all five missile firing exercises undertaken during the six month period. The completion of this highly successful deployment ended a 3 year period during which the squadron was either deployed or on detachment sixty-five percent of the time and would be the last deployment aboard USS Carl Vinson.

In recognition of the squadron's success in missile firings, VF-111 received the 1990 Boola Boola award. As a TARPS squadron, VF-111 again proved its combat readiness by winning the 1990 TARPS derby, awarded to the best Tact. Air Reconnaissance squadron on the west coast. Throughout the first 9 months of 1991, the squadron sent four detachments to Nellis Air Force Base to work with the Air Force Fighter Weapons School and hte 422nd Test and Evaluation Squadron. To stay current in the carrier environment, the squadron participated in carrier qualifications aboard USS Ranger and USS Abraham Lincoln. The squadron continued the pace it set in 1990 by executing eight consecutive and successful missile firings.

On Oct. 15, 1991 VF-111 returned to the familiar flight deck of USS Kitty Hawk. Departing Norfolk Navla Base, Virginia, VF-111 and USS Kitty Hawk began a two month cruise "around the horn" of South America ot North Island Naval Air Station, CA the new home for USS Kitty Hawk. Port visits during the deployment included St.Thomas, Virgin Islands, Mar Del Plata, Argentina and Valparaiso,Chile . Multi-national exercises with Venezuela, Argentina and Chile were conducted in various air-to-air and strike scenarios. The Sundowners returned to NAS Miramar on Dec. 11, 1991.

Various deployments followed until the Sundowners of VF-111 were finally disestablished in March 1995.



Click here for high quality Squadron Prints



F-14A


All graphics Copyright © Torsten Anft