F-14 Tomcat:
History
Specifications
Bureau Numbers
Walk-Around
Squadrons
Photos
Books
Memorabilia

Other Topics:
Grumman A/C
EXTRA 400
A/C Photos
Links
Guestbook
Credits
The Author




XF10F-1 Jaguar




Only one prototype was built and flown in 1952. The Jaguar had a high shoulder variable geometry wing (13.5 to 42.5 degrees) and a single-seat cockpit.

In June 2001, I was in touch with Corwin "Corky" Meyer, the only pilot ever to fly the unique XF10F-1. He sent a most kind and interesting letter and I add some of it to this page:

"It was a fun airplane for me to fly because it had so much wrong with it. That may sound like a contradiction of mental attitude but those aircraft were the ones that I learned how to find out just what could be corrected in the air and what had to be worked over on the ground. It was easy when an engineering pilot worked directly with the engineering department because each had a half of the answer. Neither could work without the other. It seems that test pilots now believe that computers think for both the pilots and engineers. Only humans think and so it will always be. I hope that test pilots and engineers don't give up that interesting part of making a great aircraft."

In an article in the Fligth Journal, issue April 2000, Corwing Meyer says also the following:

"An English test pilot made the following complete report about another airplane he had flown, and it fit my total assessment of the Jaguar perfectly: 'The entrance to the cockpit of this airplane is most difficult. It should have been made impossible.' "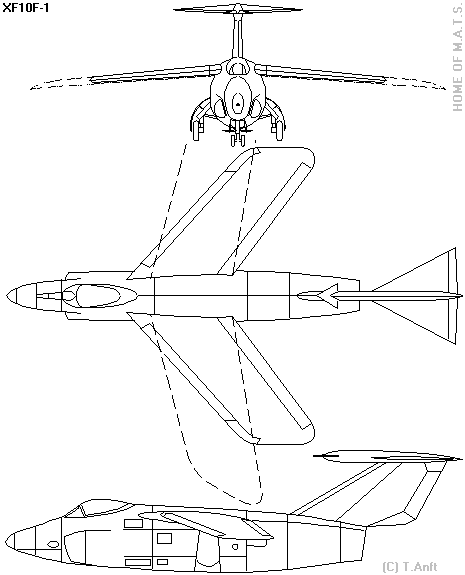 Engine Westinghouse XJ40-W-8
Length 54 ft
Wingspan 50 ft
Height 16 ft 3 in
Empty Weight 20,425 lbs
Max. Weight 35,450 lbs
Max. Speed 710 mph
Range 1,670 miles

This picture was kindly provided by Penny & Lee Thomas, Texas.