F-14 Tomcat:
History
Specifications
Bureau Numbers
Walk-Around
Squadrons
Photos
Books
Memorabilia

Other Topics:
Grumman A/C
EXTRA 400
A/C Photos
Links
Guestbook
Credits
The Author




F6F Hellcat




First flown on 26 June 1942, the F6F Hellcat became the Navy's most significant fighter in WWII. After testing of four XF6F prototypes the delivery of production models began in early 1943.
Until mid-1944 some 4,423 F6F-3s had been delivered by Grumman including some 205 F6F-3Ns night fighters (APS-6 radar under starboard wing), 18 F6F-3Es with the APS-4 radar and 252 F6F-3s (Hellcat I) for the British Royal Navy.
The Hellcat story continued and during 1944 the new F6F-5s were delivered. The F6F-5 was modified to carry 2,000 lbs bombs under the center-fuselage and six rockets under each wing. An unbelieveable 6,681 F6F-5s were produced plus 1,189 F6F-5Ns (APS-6 radar under the starboard wing) and another 930 F6F-5s for the Royal Navy (known as Hellcat II).
When the production ended in November 1945, the number of Hellcats produced totalled to 12,275! These Hellcats claimed some 75 percent (4,947!) of the Navy's air-to-air kills.
Finally in 1946, LCDR Roy M. "Butch" Voris was selected to organize and lead a flight exhibition team ... todays Blue Angels. They completed their first airshow flying the F6F-5 Hellcat in June 1946 at Jacksonville, FL.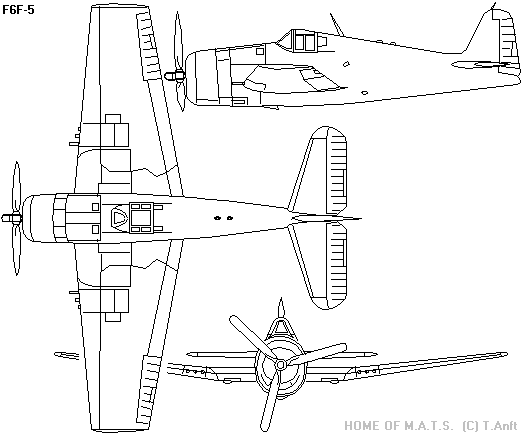 Engine One 2,000 hp Pratt & Whittney R-2800-10W
Length 33 ft 7 in
Wingspan 42 ft 10 in
Wingarea 334 sqft
Height 13 ft 1 in
Empty Weight 9,238 lbs
Max. Weight 15,413 lbs
Max. Speed 380 mph
Cruise Speed 168 mph
Ceiling 37,300 ft
Ferry Range 945 miles
Armament Six 0.5-in guns