F-14 Tomcat:
History
Specifications
Bureau Numbers
Walk-Around
Squadrons
Photos
Books
Memorabilia

Other Topics:
Grumman A/C
EXTRA 400
A/C Photos
Links
Guestbook
Credits
The Author




TBM & TBF Avenger




On 8 April 1940 Grumman received a US Navy contract for developing a torpedo-bomber, designated XTBF-1. Even though Grumman did not have any previous experience in building such kind of an aircraft, the Avenger - as the aircraft was called - became the Navy's standard torpedo-bomber in World War II and remained in service until 1954. The XTBF-1 made its maiden flight on 1 August 1941 and the first production TBF-1 was delivered in January 1942.
Since more and more Avengers were needed, the General Motors Corporation was given a contract to produce Avengers, too. These by Eastern Aircraft built Avengers were designated TBM-1 and the first were delivered to the fleet in November 1942.
During the war, Grumman built 2,290 TBF-1s and TBF-1Cs (with provisions for two 0.5-in guns) including some 395 TBF-1Bs (lend to Britain) and the TBF-2 and TBF-3 prototypes with more powerful engines. In 1944 and 1945 some modificated Avengers joined the fleet as TBF-1Ds (equipped with special radar), TBF-1CPs (with trimetrogen cameras for reconnaissance), the radar-equipped TBF-1E, the TBF-1EJ for bad weather conditions and finally the searchlight equipped TBF-1J.
Furthermore, some 2,882 TBM-1s were built (variants designated similar to the TBF-1s) plus 4,664 TBM-3s and bringing thus the total number of Avengers to 9,836! (921 were delivered to Britain and 63 to the Royal New Zealeand Air Force) The TBM-3E was equipped with a special anti-submarine detection radar and became the principal operational variant of the Avenger in the post-WWII Navy. Later, the APS-20 radar was carried by the TBM-3W in a large ventral radome. Other post-war Avengers were the TBM-3U for target-towing, the TBM-3N for special night operations, the TBM-3Q for radar countermeasures and the TBM-3R as a seven-seat carrier on-board delivery.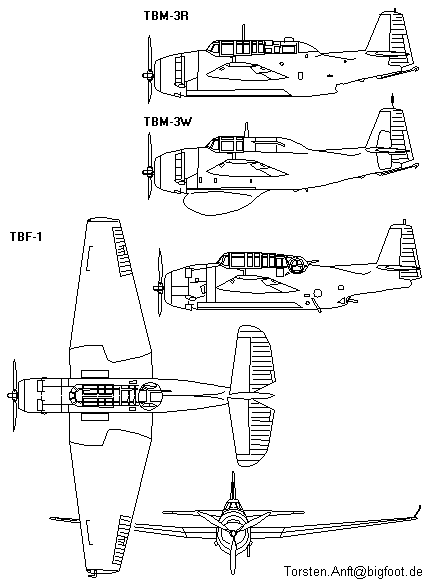 TBF-1
Engine One 1,700 hp Wright R-2600-8
Length 40 ft
Wingspan 54 ft 2 in
Wingarea 490 sqft
Height 16 ft 5 in
Empty Weight 10,080 lbs
Max. Weight 15,905 lbs
Max. Speed 271 mph
Cruise Speed 145 mph
Ceiling 22,400 ft
Ferry Range 1,215 miles
Armament One 0.3-in gun, one dorsal 0.5-in gun, one ventral 0.3-in gun, 1,600 lbs in bomb-bay
TBM-3E
Engine One 1,900 hp Wright R-2600-20
Length 40 ft 11.5 in
Wingspan 54 ft 2 in
Wingarea 490 sqft
Height 16 ft 5 in
Empty Weight 10,545 lbs
Max. Weight 17,985 lbs
Max. Speed 276 mph
Cruise Speed 147 mph
Ceiling 30,100 ft
Ferry Range 1,010 miles
Armament Two 0.5-in guns, one dorsal 0.5-in gun, one ventral 0.3-in gun, 2,000 lbs in bomb-bay