F-14 Tomcat:
History
Specifications
Bureau Numbers
Walk-Around
Squadrons
Photos
Books
Memorabilia

Other Topics:
Grumman A/C
EXTRA 400
A/C Photos
Links
Guestbook
Credits
The Author




F9F Cougar




The carrier-based Cougar (Grumman design G-93) is a derivative of the straight-wing F9F Panther and made its maiden flight on 20 September 1951. All in all 706 F9F-6s plus some 168 F9F-7s (identical to the F9F-6 but with Allison J33-A-16A engine; redesignated after 1962 to F-9H). A number of different F9F-6 (F-9F) versions were in service with the US Navy:

F9F-6P Camera equipped
F9F-6K (QF-9J) Target Drone
F9F-6K2 (QF-9G) Target Drone
F9F-6D Drone Director Aircraft (redesignated DF-9F)

The F9F-6 was developed further to the lengthened F9F-8 which flew for the first time on 18 December 1953. Some 712 F9F-8s were built by Grumman including a number of F9F-8Ps (after 1962 RF-9J) for reconnaissance missions. Additionally, 399 F9F-8T (TF-9J) two-seat Cougars were built after the two-seaters first flight on 4 April 1956 including some attack F9F-8B (AF-9J) and F9F-8P (RF-9J).
So all in all 1,985 Cougars were built for the US Navy and Marine Corps!
Also, the F9F-8T (after 1962 known as TF-9J) was flown for two years by the Blue Angels aerobatic team (1955-1957).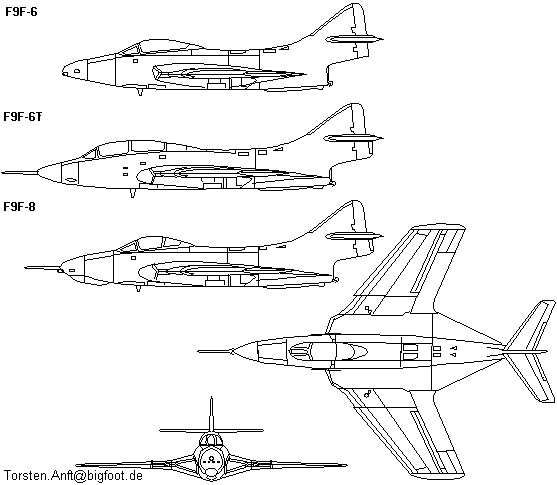 F9F-6
Engine One Pratt & Whittney J48-P-8 turbojet
Thrust 7,250 lbs each
Length 41 ft 7 in
Wingspan 36 ft 5 in
Height 15 ft
Max. Weight 20,000 lbs
Max. Speed 690 mph
Ceiling 50,000 ft
Ferry Range 1,000 miles
Armament Two 20 mm guns, two 1,000 lbs bombs under the wings
F9F-8T
Engine One Pratt & Whittney J48-P-8A turbojet
Thrust 7,200 lbs each
Length 44 ft 5 in
Wingspan 34 ft 6 in
Height 12 ft 3 in
Max. Weight 20,600 lbs
Max. Speed 705 mph
Ceiling 50,000 ft
Ferry Range 600 miles
Armament Two 20 mm guns
F9F-6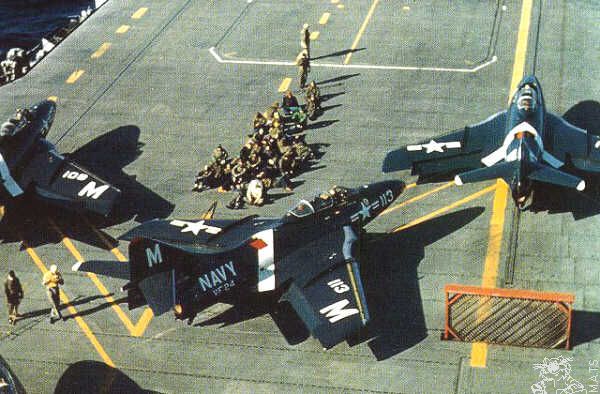 TF-9J