F-14 Tomcat:
History
Specifications
Bureau Numbers
Walk-Around
Squadrons
Photos
Books
Memorabilia

Other Topics:
Grumman A/C
EXTRA 400
A/C Photos
Links
Guestbook
Credits
The Author




F9F Panther




The F9F-5 Panther was the first jet fighter designed by Grumman. The first of two XF9F-2 made its maiden flight on 24 November 1947. Unlike the three prototypes, all production Panthers had permanent wingtip tanks. Different jet engines were tested and the final F9F-5 had a 2 feet fuselage extension and a taller fin.
The carrier-based F9F-2s made history when they became the first US Navy jets to down a jet fighter MiG-15 over Korea on 3 July 1950.
Apart from the five prototypes (2 XF9F-2, 1 XF9F-3, 1 XF9F-4, 1 XF9F-5), a total of 477 F9F-2s, 69 F9F-3s, 655 F9F-5s and 28 F9F-5Ps (reconnaissance aircraft) were built. Some of the Panther were converted to target drone or drone controller F9F-5KD (redesignated DF-9Es in 1962).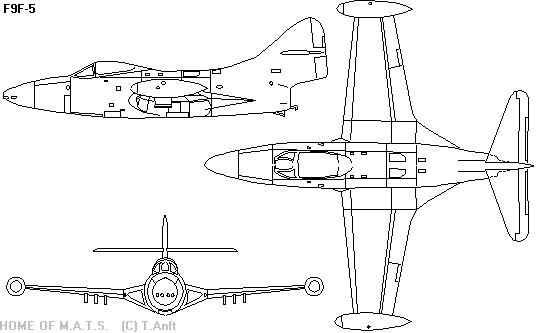 Engine One Pratt & Whittney J48-P-6A turbojet
Thrust 6,250 lbs each
Length 38 ft 10 in
Wingspan 38 ft
Height 12 ft 3 in
Empty Weight 10,147 lbs
Max. Weight 18,721 lbs
Max. Speed 579 mph
Cruise Speed 481 mph
Ceiling 42,800 ft
Ferry Range 1,300 miles
Armament Four 20 mm guns