F-14 Tomcat:
History
Specifications
Bureau Numbers
Walk-Around
Squadrons
Photos
Books
Memorabilia

Other Topics:
Grumman A/C
EXTRA 400
A/C Photos
Links
Guestbook
Credits
The Author




UF-1 Albatross




As a successor for the JRF Goose, Grumman developed the G-64 design of what was to become the UF-1 Albatross. The maiden flight of the XJR2F-1 took place on 24 October 1947. The designation JR stood for Utility Transport.
After some redesignations from JR2F-1 to PF-1 (Patrol Aircraft) the Albatross was finally designated UF-1 (Utility Aircraft). One UF-1 was ski-equipped (UF-1L) for use in the Antarctic, five were updated to UF-1T standard with dual controls for training purposes. The US Air Force used Albatrosses under the designation SA-16A.
In 1957, the Navy increased the UF-1's wingspan by 16.5 ft, modified the leading edge chambers, enlarged the ailerons and enlarged the fin and rudders. The new Albatross was designated UF-2. In 1962 the designation changed into HU-16D.
Finally, two prototypes, 69 UF-1/-1Ts, one UF-1L, 41 UF-1Gs and 17 UF-2s were built by Grumman.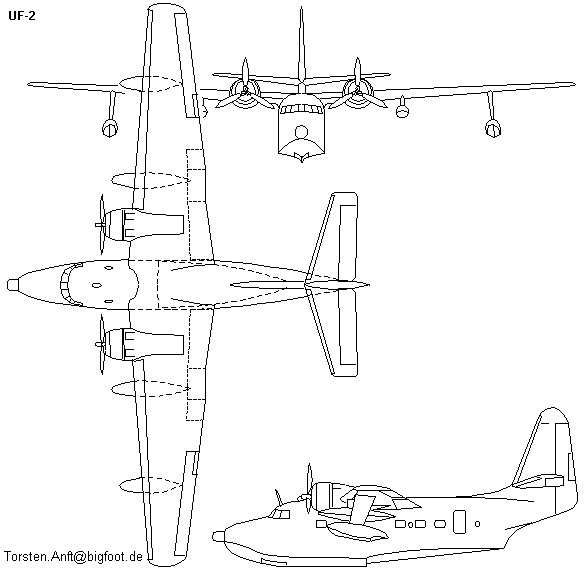 Accomodation 4 Crew members plus up to 10 passengers
Engine Two 1,425 hp Wright R-1820-76A/B
Length 61 ft 3 in
Wingspan 96 ft 8 in
Height 25 ft 10 in
Wing Area 1,035 sqft
Empty Weight 22,883 lbs
Max. Weight 35,700 lbs
Max. Speed 236 mph
Cruise Speed 150 mph
Ceiling 21,500 ft
Ferry Range 2,850 miles