F-14 Tomcat:
History
Specifications
Bureau Numbers
Walk-Around
Squadrons
Photos
Books
Memorabilia

Other Topics:
Grumman A/C
EXTRA 400
A/C Photos
Links
Guestbook
Credits
The Author




AF-2 Guardian




The AF Guardian was developed as a replacement for the Navy's TBF Avenger anti-submarine search & strike aircraft. Grumman's G-70 design even featured a turbojet engine in the tail for high escape speeds instead of any defensive armament as in the TBF Avenger. The first prototype flew on 19 December 1945 and it was discovered that the increase in speed produced by the turbojet was not high enough and so this addition was cancelled.
Two variants of the Guardian were produced: The AF-2S for torpedo or bombing missions and the AF-2W with the large ventral radar. The latter was manned by a crew of three instead of one pilot only. Two radar operators found a place to work in the fuselage. The AF-2S was equipped with much smaller radar under one of the wings. Both Guardians worked together in a team: The AF-2W detected the target and the AF-2S attacked it.
153 AF-2Ws and 193 AF-2Ss were built until 1953. Additionally, some 40 AF-3S (with a MAD (Magnetic Anomaly Detection) radar under the fuselage were delivered in 153.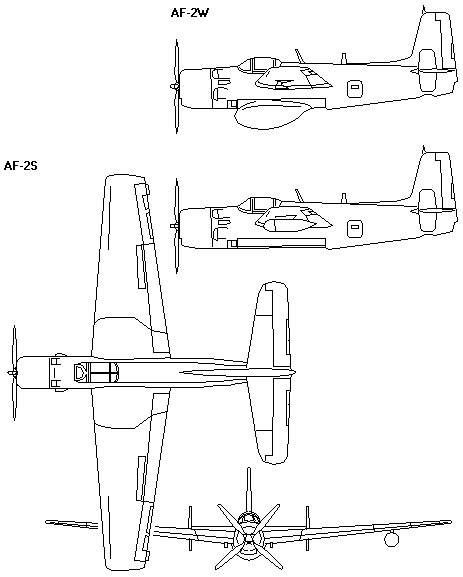 AF-2S
Engine One 2,400 hp Pratt & Whittney R-2800-48W
Length 43 ft 4 in
Wingspan 60 ft 8 in
Height 16 ft 2 in
Empty Weight 14,580 lbs
Max. Weight 25,500 lbs
Max. Speed 317 mph
Ceiling 32,500 ft
Range 1,500 miles
Armament One 2,000 lb torpedo or two 2,000 lb bombs or two 1,600 lb depth-charges in weapons-bay