F-14 Tomcat:
History
Specifications
Bureau Numbers
Walk-Around
Squadrons
Photos
Books
Memorabilia

Other Topics:
Grumman A/C
EXTRA 400
A/C Photos
Links
Guestbook
Credits
The Author




F8F Bearcat




The 1943 G-58 design was Grummans final propeller driven fighter aircraft and it was the finest piston-engined fighter in service with the US Navy. The first F8F prototype flew on 21 August 1944 and proved a rate of climb of 4,800 ft/min and a top speed of 424 mph.
Some 2,023 F8F-1s were ordered by the Navy plus some 1,876 F3M-1s (General Motors designation for the F8F-1), but the contract was cut back to 770 Grumman F8F-1s and the General Motors production was cancelled. Additionally 126 F8F-1Bs were produced with new 20-mm guns in place of the wing-guns. Among those were also 15 F8F-1N night fighters with a radar pod under one wing.
In 1948 the Bearcat was improved and 293 F8F-2s with 20-mm cannons, taller fin and rudder and other modifications were built. Furthermore, 12 F8F-2Ns (night fighters) and 60 F8F-2Ps (camera equipped) were produced.
From 1946 to 1949 the Blue Angels aerobatic team flew the F8F-1. The last Bearcats were phased out in 1952 and thereafter only a few F8F-1Ds and F8F-2Ds were used as drone control aircrafts.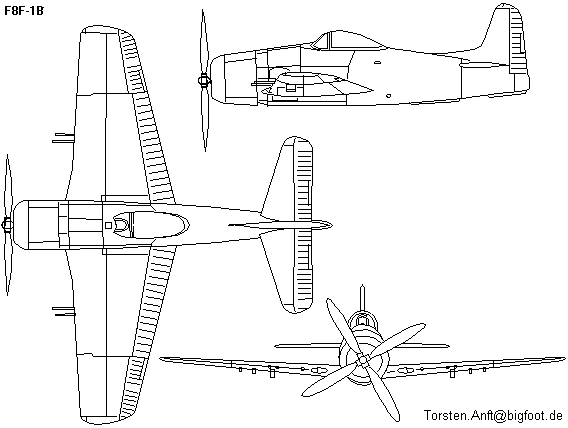 Engine One 2,100 hp Pratt & Whittney R-2800-34W
Length 28 ft 3 in
Wingspan 35 ft 10 in
Height 13 ft 10 in
Empty Weight 7,070 lbs
Max. Weight 12,947 lbs
Max. Speed 421 mph
Cruise Speed 163 mph
Ceiling 38,700 ft
Ferry Range 1,105 miles
Armament Four 0.5 in machine guns