F-14 Tomcat:
History
Specifications
Bureau Numbers
Walk-Around
Squadrons
Photos
Books
Memorabilia

Other Topics:
Grumman A/C
EXTRA 400
A/C Photos
Links
Guestbook
Credits
The Author




The last F-14 catshot






When you're out of F-14s, then you're out of fighters!



Well, now it's really the very very last time: A VF-31 F-14D (modex AJ112, BuNo 163417) is launched from USS Theodore Roosevelt on July 28, 2006 (see image below).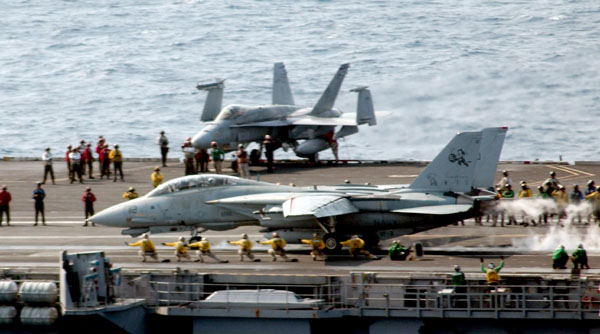 US Navy Story Number: NNS060729-02, Release Date: 7/29/2006 7:56:00 AM

Tomcat Chapter Draws to a Close

A long, storied chapter in naval aviation history came to a close July 28 with the final aircraft carrier flight operations for F-14 Tomcats, fighter jets that have spent more than 32 years in the fleet but are now retiring and making room for F/A-18E/F Super Hornets. The final aircraft carrier operational launch for Tomcats happened aboard the Norfolk-based Nimitz-class aircraft carrier USS Theodore Roosevelt (CVN 71) when aircraft No. 112 from the "Tomcatters" of Fighter Squadron (VF) 31, piloted by Lt. Blake Coleman and Radar Intercept Officer Lt. Cmdr. Dave Lauderbaugh, made its way down catapult No. 3 at 4:42 p.m. (...)


Below: The last F-14 during a regular deployment to be catapulted from the deck a carrier, a VF-213 F-14D is fired from a waist cat of the USS Theodore Roosevelt on Friday 11 March 2006. VF-213 stands down immediately for transition to the F/A-18F Super Hornet. The other returning squadron, VF-31 will remain operational at NAS Oceana through September at which time they will begin transition to the Super Hornet. Pending any unscheduled carrier operations, the F-14 Tomcat has seen it's final shipboard arrested landing and catapult launch.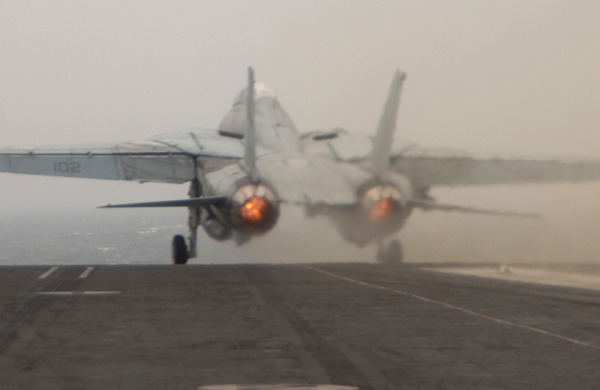 Links: