F-14 Tomcat:
History
Specifications
Bureau Numbers
Walk-Around
Squadrons
Photos
Books
Memorabilia

Other Topics:
Grumman A/C
EXTRA 400
A/C Photos
Links
Guestbook
Credits
The Author




Export Tomcats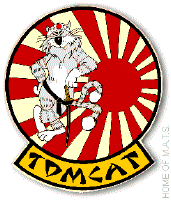 When the Navy signed the contract for the F-14 with Grumman, some 700 Tomcats were to be built. But at some point the Navy cut back its order to some 300 F-14s which was a serious problem for Grumman. So the company was looking for foreign customers to buy their fabulous aircraft.
First and only foreign country to fly the F-14 was Iran. Back in the early '70s the shah was about to buy new fighters for the Imperial Iranian Air Force. The choice was either the MDD F-15 Eagle or the Grumman F-14 Tomcat. After a competetive show and certainly a lot of talks about the pros and cons of both fighters, Iran decided to go for the F-14 Tomcat.
BuNos 160299 to 160378 (F-14A-90/95-GR) were built for Iran with the last one (BuNo 160378) remaining in the US after the islamic revolution in Iran. This particular aircraft was put into storage at Davis-Monthan AFB until it was refurbished and used at the PMTC at Point Mugu, CA.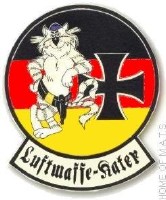 After the islamic revolution (Islamic Republic of Iran Air Force) and reorientation of Iran and its good relations to the USSR the Navy was quickly changing its AN/AWG-9 radar and AIM-54 missile systems. That way any data fallen into the hands of the enemy would be mostly useless to them. Click here to read more about the Iranian Tomcat.

Another possible foreign customer might have been Japan when its Air Force was about to buy a replacement for their aging fighters. Again, the decision had to be made between the F-14 and the F-15 ... Grumman took big efforts to win this contract with Japan (see above patch by William C. Barto, Grummanite), but this time the F-15 Eagle won.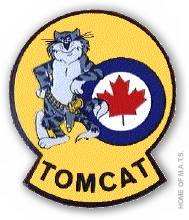 Even West Germany was in the early '70 a possible customer for the F-14. The German Luftwaffe Lt.General Steinhof even visited the Grumman production line. For this occasion, a Luftwaffe Tomcat patch was designed (left). Note that the German word "Kater" means nothing else than "Tomcat".

Finally, in the 1970s Grumman was persuing F-14 sales to Canada. The Canadians seemed interested, even came down to the Grumman plant for a briefing, check-ride, etc. They needed something to replace their aging F-101 Voodoos with, and the F-14 seemed to be the answer. In fact, it looked pretty good for a while, then suddenly the whole thing went sour. The reason for not buying the F-14 must have been politics, not the price of the plane.